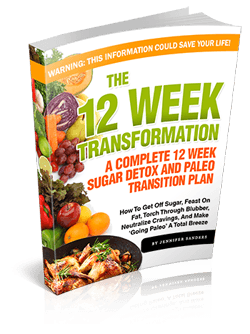 Did you know that your LIVER might be a huge part of your weight-loss problem?
It's true, chemicals and sugars in processed foods (even the 'healthy' ones), can clog your liver and drag your weight-loss to a grinding halt... Even if you're doing EVERYTHING else perfectly!
With this 12-week paleo transition guide, you can wash away all the junk and garbage that your body's holding onto internally, and give your fat-burning metabolism a MASSIVE kick in the butt...
And, this isn't some painful 'juice cleanse' detox or any of that garbage... This detox is actually FUN, EASY, and takes all of the HARD WORK out for you...
Fully complete and detailed, you will get week-by-week, day-by-day meal plans, and shopping lists, so you always know EXACTLY what to do... making your transition to a healthy lifestyle super easy!
Plus, this ultimate transition guide comes powered with an entire juicy bag of weight-loss maximizing tricks, including the best PSYCHOLOGICAL weight-loss tricks (so you can EMOTIONALLY-ARM yourself against the typical 'weight loss sabotage' that people without support often experience...)
And the best part?
ALL of the foods in this detox (including the mouth-watering desserts), are specifically designed to increase your fat-burning metabolism powerfully and prepare you for an EFFORTLESS transition to a leaner and healthier body…
So as you rid your body of harmful toxins and melt away pounds of FAT, you can still be enjoying HUGE portions of sweet, chocolatey dessert... How awesome is that?